Kasey Warner – Confident Killer
Kasey Warner – Confident Killer
Tags: Hardcore,, Femdom, Bondage, Fetish, Snuff Fantasy
A female interrogator and her male partner are in a room with a prisoner The prisoner is bound to a chair Dark-haired young woman is in leathers, lace stockings, boots Partner, talking on the phone, leaves the room The woman sits on the prisoner's lap She teases, taunts and kisses him When the partner returns, she gets up She kisses her partner, takes his gun, and shoots the prisoner in the shoulder Both men are shocked at her ruthlessness She puts a cigarette in a holder, lights up and smokes The partner sits down to watch her work She taunts the wounded prisoner She takes her top down and rubs her breasts on his face Abruptly, she turns and shoots her partner in the head He is dead instantly She continues to taunt and threaten the prisoner She torments him while topless, then puts her top up and jacket on Taking a syringe from her pocket, she jabs him in the neck While the drug takes effect, she pushes her partner's body out of the chair The corpse falls to the floor She pulls the chair over and sits in front of the prisoner She pushes heel into his groin while she masturbates with the gun She rubs the barrel against her pussy then puts the gun in his mouth He breaks down, and she shoots him in the head The killing turns her on and she climaxes She reports in using her dead partner's phone Finally she opens the dead prisoner's pants She rides his dead man's cock to another orgasm She departs, leaving both men dead in the room.

Name: PTF_Confident-Killer.mp4
Duration: 00:14:05
Size: 732.17 MB
Resolution: 1920 x 1080
Frame Rate: 23.976 fps
Audio Codec: AAC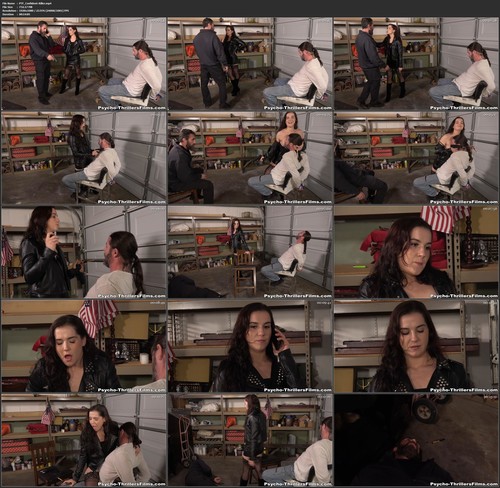 » DOWNLOAD OR WATCH ONLINE / PTF_Confident-Killer.mp4
_____________________________________________
If you like my contributions save this page (ctrl+D), upload videos and games continuously with the best quality. And with your support I will continue with many more – Enjoy!